For about half of American homes, simply adding a Level 2 circuit for an EV is impractical. The electrical service and/or the electrical panel in the home may not be able to accommodate the new high-amperage circuit. Thus, a costly upgrade costing many thousands will be the only option. However, a new solution by ConnectDER marketed by Siemens may be a game changer for homeowners who need an affordable way to add a circuit to accommodate a Level 2 charger. This new method of adding the required additional circuit will save many homeowners an estimated 60 to 80 percent of the charger installation cost by avoiding the need for electric panel and service upgrades.
Related Story: Electric Vehicle Charging Is a Confusing Mess For New EV Owners
Let's Step Back And Explain How Adding an EV Charger To a Home Works
All electric cars can plug into a dedicated 115-volt wall socket designed for continuous use. There are two main problems with this. First, the rate of added charge is tiny. Perhaps 3 miles of range for every hour you are charging. Second, that dedicated circuit is entirely imaginary. Every existing 115-volt outlet in your house is a shared circuit not designed for continuous use unless it was specifically installed for some unusual purpose. So it does not meet the automakers' instructions on which plug is safe to use when charging. Furthermore, it is unlikely to be on a heavy-duty circuit designed for 12-amp continuous use, which will normally have a 20-amp breaker and line. It is likely the more common 15-amps and, again, shared not dedicated to your single outlet's use.
Related Story: How One EV Owner Relies On Urban Public Charging – Yes It's Possible
What Is a Level 2 Charger?
Most EV owners with their own homes opt to purchase or use what is called a Level 2 charger. Level 2 simply means the charger operates on a 230-volt higher-amperage circuit. The higher volts and amps translate into a faster transfer of energy into your EV's battery, much faster in most cases. Home EV chargers generally add in from around 10 miles per hour when charging to as many as 30 miles per hour on the charger. You can quickly see why Level 2 is the way to go. There are other benefits. These include paying less for the electricity since the charging losses are lower with higher voltage energy transfer.
Related Story: EV Experts and Advcates Warn That EV Charging Is a Barrier To Market Expansion
How Do You Install a Level 2 Charger?
The first step to adding a Level 2 charger, regardless of brand, is to provide the power. This is done today by adding a new circuit to your home's electrical system via the service panel (a.k.a. breaker box). A 230-volt line with a high amperage capability is installed, and that takes up 2 breaker knockouts inside the panel. 220 V and 240 V are the same things, by the way. The number is nominal. The wires are run to either an outlet or the EVSE, a.k.a. "EV charger," which can be mounted to a fixed location and hard-wired. If you opt for the outlet optional, the term used is "portable charger," even though folks almost never actually take it anywhere else. Most brands have chargers that can be mounted in place and hard-wired, or they can be mounted next to the new 230 V outlet (socket) and plugged in.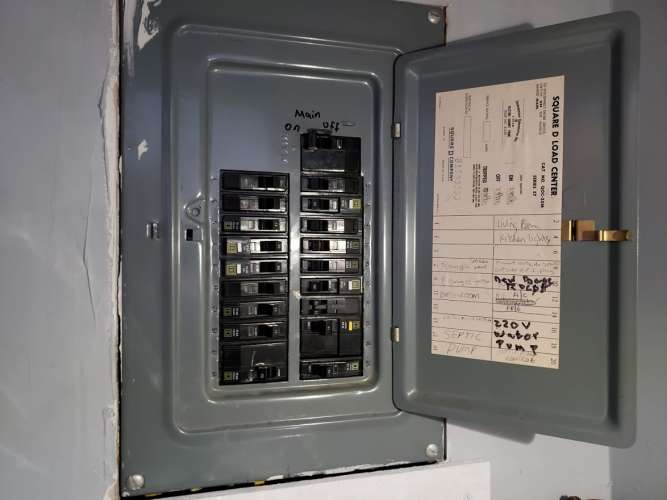 So What's The Big Problem With EV Circuits In Many Homes?
To install the new circuit properly and to meet the electric code, the new circuit needs a spot in your panel, and the total load on the panel should be within the limits set by both the incoming service line to the home and the panel's capacity. In other words, the panel can't be "filled up with other stuff already." Siemens says that about half of American homes cannot add another circuit. The panels are already either full, or they are actually overfull, with perhaps some tandem circuits and mini-breakers improperly added (Mini-split HVAC installers, we are looking at you). Adding in a new circuit that complies with the electrical code is impossible. So, that means you need an expensive panel and service upgrade.
How Much Does A Panel Upgrade Cost?
How expensive is a new panel and service upgrade? Your author recently updated the electric service in a New Hampshire cabin to allow for an EV charger. The estimate was $4200, but the final price was about $6,000 in total, not including the circuit for the EV charger or the actual charger. I also just moved my primary residence in Metro Boston and the house was modern, built in the 1980s. Its panel was already full as well. The cost estimate to update the service to accommodate the new EV charger is $3,800, not including the circuit for the EV charger or the charger itself.
How Does The New ConnectDER-Siemens Product Help Save EV Owners Money?
The new product is a game changer because it has a magical solution. Instead of adding the circuit to the already overburdened panel, the power supply to the new EV charger instead is provided at the electrical meter outside the home. For this to work, your electrical meter will need to be reasonably close to a place where you can park to charge. For many homeowners, this will be the case because the service line from the street always comes to the front of the property. Hopefully, on the side near where you park. It will work perfectly for me. My Meter is on the outside wall of my garage.
The novel solution uses a collar that is affixed to the electrical meter's "socket." This collar can provide a 230-volt high-amperage circuit that can be used as the power supply to an EV charger. The cost is in the hundreds of dollars for this, not very different from the cost to simply have an electrician install a new breaker and circuit in an existing electrical panel (if that were possible). The savings can be many thousands for those homeowners whose home electrical system works fine, but simply cannot accommodate another new 230-volt high-amperage circuit line without very costly updates.
"Siemens invests in initiatives that help the world embrace electrified transportation, and we are pleased to partner with ConnectDER on this important effort," said Chris King, senior vice president of strategic partnerships, Siemens. "While the EV industry continues to show explosive growth, to meet critical net-zero carbon emission goals like we have at Siemens, we must remove obstacles to broader adoption. ConnectDER's innovative solution to simplify home EV charging helps overcome these challenges and we are excited to work with its team to rapidly roll out this product."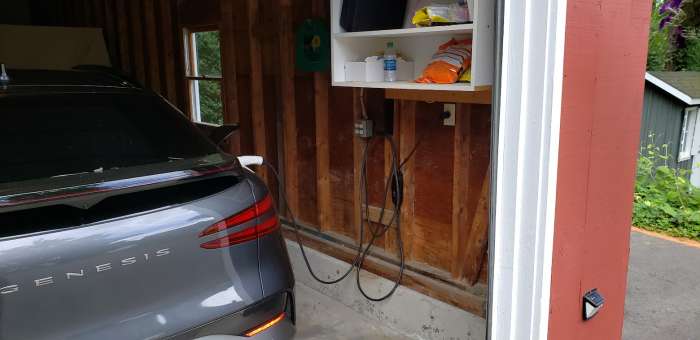 The "Unused Dryer Plug" EV Charger Solution
If your home has an unused 230-volt circuit within reach of where you plan to charge (say 20 feet or so), use it! The best way to do that is to pay an electrician to come to your home, inspect that circuit and all of its components, and perhaps update what is needed. You may need (and want) a GFCI breaker if you plan to use a charger that plugs in, or you may need to have your wall-mounted charger hard-wired into that circuit. Although it is unlikely the existing circuit is the most amps possible (usually 50 amps), it will be a huge improvement over using a 115-volt socket. Just be sure that the line is properly installed and wasn't added by a prior homeowner or handyman. Your electrician will help you understand your options, starting with what amperage the line can provide. That will help you know which charger can work for you.
In my previous home, my garage had a properly installed 230-volt outlet that I was able to use. I purchased a charger with the appropriate plug end, and the charger provided about 10 miles per hour on the charger. It worked well for my needs since it was already there. Sometimes EV owners get lucky. I've been both lucky and unlucky so far with a few homes.
A Note To Our DIYers
If you are a DIYer, please feel free to comment below. America is built on independent, hardworking folks who are able to do such work on their own. However, the electrical code requires that new circuits be done with a building permit and an inspection by the municipality's electrical inspector. Yes, you may be able to make it work. Yes, your work may be top-notch. However, for most EV owners, adding a new high-amperage line to a home's existing system is not a DIY project. Nobody without an electrician's state license and proper insurance should ever be working on a home's panel as a "favor" to a homeowner. This article is meant for the majority of homeowners who plan to do the job by the book.
The new ConnectDER and Siemens EV charger solution was brought to my attention by a licensed electrician who quoted me about $6,000 to upgrade my home to accept a new EV charger. Having looked into the new product, it seems as if it is slated to roll out in America in late 2022 or 2023. If you are one of the millions of Americans in a home that needs pricey upgrades to add a charger circuit, be sure you ask your own electrician about this exciting new option. We have provided direct links to both ConnectDER and Siemens below. If you have used this new solution, please contact us or post a comment below. Your experience may be very valuable to a fellow EV owner.
Author note: If all goes to plan, I hope to become one of the first to purchase and install the Siemens/ConnectDER solution. Watch for future updates.
Link to Siemens Charger Press Release
Link to ConnectDER

John Goreham is a long-time New England Motor Press Association member and recovering engineer. John's interest in EVs goes back to 1990 when he designed the thermal control system for an EV battery as part of an academic team. After earning his mechanical engineering degree, John completed a marketing program at Northeastern University and worked with automotive component manufacturers, in the semiconductor industry, and in biotech. In addition to Torque News, John's work has appeared in print in dozens of American news outlets and he provides reviews to many vehicle shopping sites. You can follow John on TikTok @ToknCars, on Twitter, and view his credentials at Linkedin
Re-Publication. If you wish to re-use this content, please contact Torque News for terms and conditions.
Top of page image of meter socket outlet courtesy of ConnectDER. Image of panel upgrade quote, old beaker panel and Genesis on portable Level 2 charger by John Goreham. Chevy Bolt charging instructions from Bolt owner's manual.