The kitchen is the heart of the home. It's where we cook, eat, and gather with family and friends.
It's also where bills pile up, children's artwork gets created, and where we keep all our stuff. So it's no wonder kitchen remodels are one of the most popular home improvement projects.
If you're thinking about a kitchen remodel in los angeles, knowing the current trends is essential to ensure you create a space that you'll love for years to come. While some trends come and go, there are some concepts that simply never go out of style.
Here are five modern kitchen design ideas to inspire your next remodel:
1. Clean, Straight Lines and Minimalist Design
The trend in recent years has been towards clean lines and minimalism in kitchen design, which shows no signs of slowing down. Homeowners are increasingly opting for a stylish and functional, streamlined look.
One of the best ways to achieve this look is to choose cabinetry with simple, straight lines. Shaker-style cabinets are a great option for achieving this clean-lined look. If you want to add a bit of personality to your kitchen, consider incorporating some glass cabinet doors or open shelving into the design.
Inspiration: Check out this Balinesian Inspired Bungalow from designer Julian Porcino – a master at using lines and minimalist designs to create larger-than-life settings.
2. Use Bold Colors & Statements To Make An Impact
Are bold colors in? Are they out? Should I opt for a neutral palette or go all out with a bold statement?
The answer is, "it depends." These days, there are no hard and fast rules when it comes to kitchen design. You can opt for a completely neutral kitchen or go all out with a bold and vibrant space. It comes down to the combination of other elements and the overall aesthetic you're going for in your home.
If you decide to incorporate some color into your kitchen, one of the hottest trends is using two-toned cabinetry. This is where you pair two colors together – usually a light and a dark – to create contrast and visual interest in the space.
Inspiration: This kitchen from Bestor Architecture uses splashes of color in all the right places to create a fun and festive space. The use of colored pendant lights is a particularly nice touch.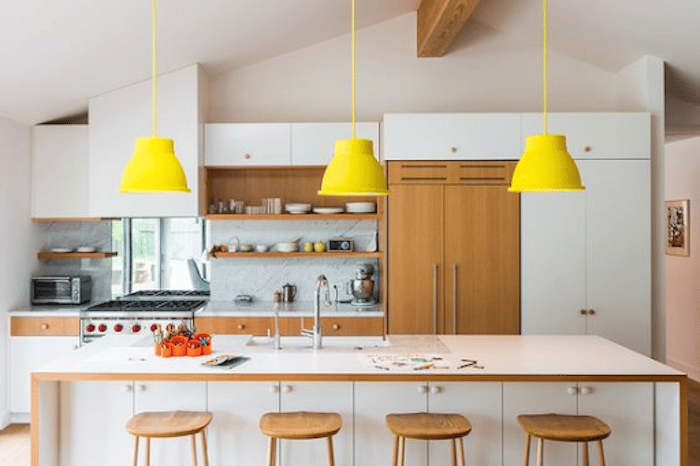 3. Go Green with Sustainable & Eco-Friendly Materials
As we become increasingly aware of the impact our homes have on the environment, there has been a shift towards using sustainable and eco-friendly materials in kitchen design.
There are many ways to make your kitchen green, from choosing energy-efficient appliances to using recycled or reclaimed materials. You can also opt to maximize the window area in your kitchen to take advantage of natural light and minimize your reliance on artificial lighting.
Inspiration: Want to really flip the script on kitchen design? This kitchen, designed by architect Michael Graves and designer Victoria Hagan, removes the hanging cabinets and replaces them with windows that let in natural light and provide views of the outdoors.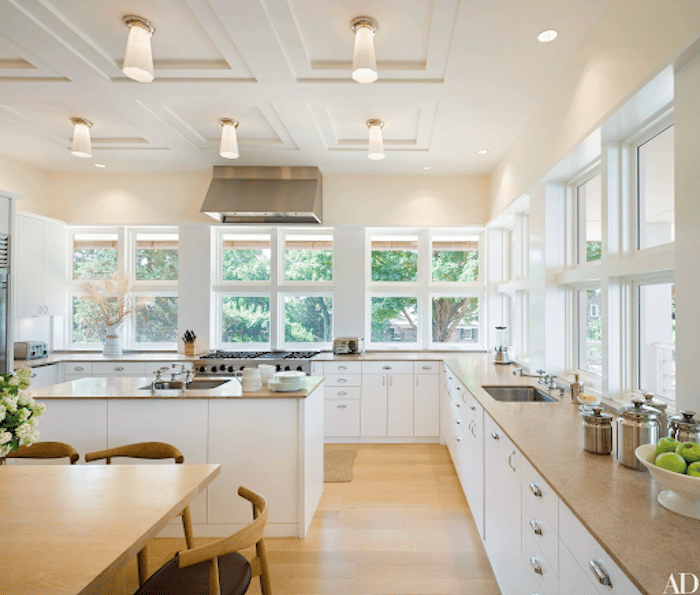 4. Maximize Storage & Functionality
If you are going to reduce the noise of a space, you are going to sacrifice storage. So, how do you stay minimalistic in your kitchen while still maintaining functionality?
There are a few ways to achieve this, but one of the most popular is incorporating storage into the design. This can be done in a number of ways, such as adding additional shelves or cabinets above or below the countertops. You can also take advantage of unused space by adding a kitchen island or breakfast bar that uses otherwise wasted space.
Another tip is to create open shelving that turns your storage into design elements. This is a great way to show off your favorite dishes or glassware while keeping things organized and tidy.
Inspiration: Consider the use of your kitchen elements on an open shelf that is accentuated by wood. This kitchen storage solution by Katherine Carter showcases how you can quickly turn storage space into artful designs.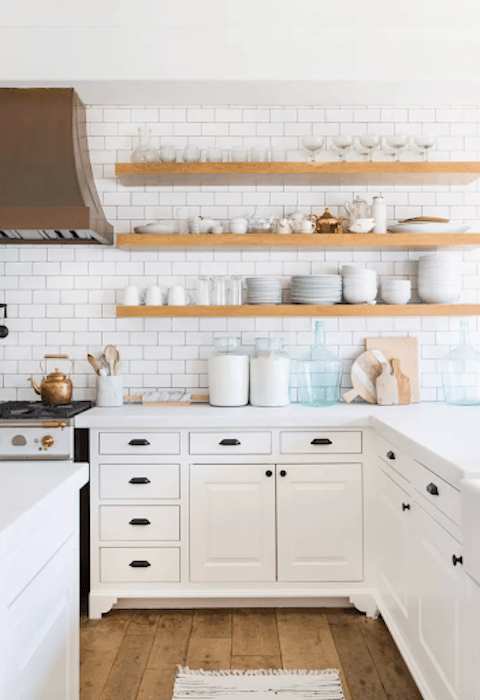 5. Go for a Modern Aesthetic with Retro Appliances
An emerging trend in kitchen design is reaching back to the days of mid-century modernism for inspiration.
One of the best ways to achieve this look is by incorporating retro appliances into your kitchen design. These can be anything from refrigerators and stoves to dishwashers and microwaves. The important thing is that they have a vintage feel that will help to create the overall aesthetic you're going for.
Inspiration: This kitchen using Big Chill Appliances is the perfect example of how to incorporate retro appliances into a modern kitchen design. The appliances' bright colors and sleek lines are offset by the warm wood tones of the cabinets and floors, creating a balanced and inviting space.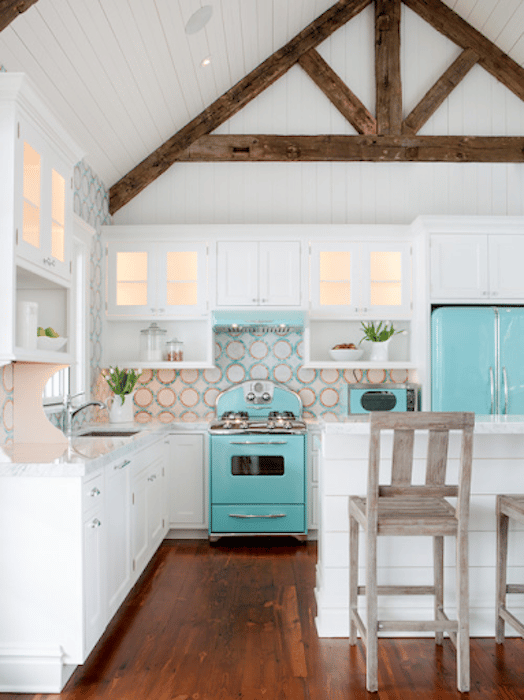 Enhance Your Kitchen with Studio Haus
No matter which trends you decide to use in your kitchen design, the important thing to remember is that the kitchen is made up of those who use it – rather than the materials or finishes. So, make sure to incorporate elements that will make your space functional and comfortable for you and your family.
If you're looking for some help with your kitchen design, our team at Studio Haus can assist you in creating a space that is both beautiful and functional. As a leader in innovation and cabinetry, we have the experience and expertise to help you create a perfect kitchen for your home.
Contact us today to learn more about our services or to schedule a consultation. We look forward to helping you create the kitchen of your dreams!