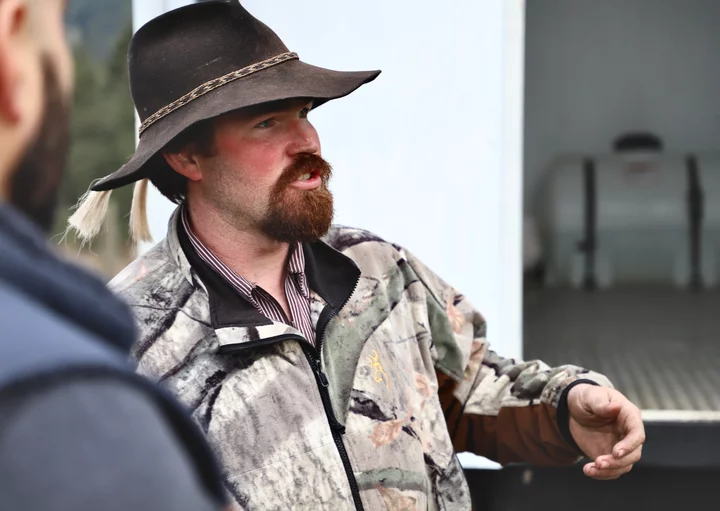 Every
year at the Humboldt County Fair you joke about bidding on one of
those farm animals raised by a child. Every year you think about
splitting the cost with a bunch of your friends and getting the whole
animal butchered. You dream about having local, organic meat at your
table and the rest tucked away in your freezer.
That
dream is a lot closer than you think.
Farmers
usually transport livestock to a facility approved by the USDA for
processing before it can be sold. With Mobile Slaughter Operators
(MSOs), farmers can sell the living animal first and then have it
slaughtered and butchered. Here's how it works: You
purchase an animal locally, pay the rancher to care for the animal
and collect the meat after the animal is harvested.
Back
in 2020, California Governor Gavin Newsom signed AB
888 – Mobile slaughter operations: livestock
into law, allowing
cattle, goats, sheep and swine to be slaughtered on the ranch where
they were raised. With the rising interest in how and where meat is
produced, demand also went up for local slaughtering. This is where
MSOs step in.
Meet
Clyde Dalton, licensed
to kill.
Dalton,
age
30,
owner
and operator of the Lost Coast Mobile Slaughter Service, brings his
truck out to farms and slaughters your animal. If you are worried
about sanitation or the humane aspect of slaughter, Dalton follows
guidelines provided by USDA and the California Department of Food and
Agriculture (CDFA). Every year he pays a licensing fee to be a
livestock meat inspector with the CDFA and completes a training
program provided by the Meat, Poultry and Egg Safety Branch of the
department.
Stepping
away from the bureaucracy of an LLC, Dalton operates on knowledge and
practice. Born in Fortuna but raised in Carlotta, he has been raising
animals as well as slaughtering them since he was a kid.
"I was probably around six years old and I got used to the process," Dalton told the Outpost on a recent tour of his operations. "I remember being interested in where our food comes from."
The
Lost Coast Mobile Slaughter Service has been in operation for roughly
a month, and most business is coming from local small farms. He has
not been able to operate within city limits because of his primary
tool for slaughter — his gun. Using a firearm within city limits is
prohibited in most scenarios, and that includes the killing of
livestock.
"I'm
hoping to get a bolt gun in the future so that I can adjust and
possibly do work within city limits," Dalton said.
To
be clear, he does not butcher livestock. He simply slaughters. He
charges a flat fee depending on the animal, but is learning to pivot
as things change.
Just
recently he slaughtered a massive bull weighing somewhere around
2,200 pounds. It took him three hours to kill, skin and clean. He
also cleared out its innards and left the head for the owners to deal
with. As part of the category he operates in, Dalton is technically
not allowed to keep, dispose of or process any of these parts.
"Once
I have the animal ready I leave all that for the owner," Dalton
said.
"I take the carcass to the butcher shop and that's it."
In
the same week that he slaughtered the massive bull, he took care of
two pigs and two sheep over the course of three days. It is tough and
honest labor.
"Somebody's
gotta do it," Dalton
said.
"And I don't mind it because I grew up hunting."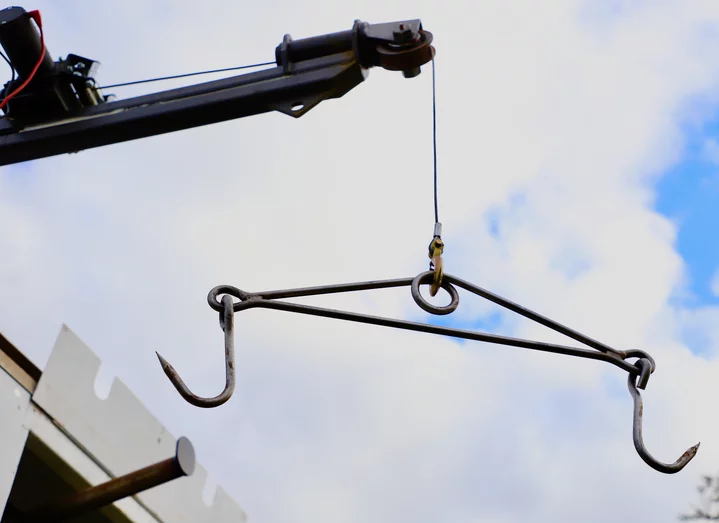 The
main reason Dalton is even able to run a business like this is
because of his truck, which
was custom-built
by Dalton himself over the course of six months. There are three
major components that aren't inherently part of the truck. There's
the
welded pillar that can swivel so that Dalton can hook up a carcass
and lift it from the ground. There
are the
tracks inside, used
to
hang the carcasses for storage and travel. And there
are the
chains to keep the hooked carcasses from sliding back and forth on
the tracks.
He
welded every necessary piece, installed easy-to-clean flooring,
bolted down a large container for water used to spray the inside of
the truck and the carcasses clean.
His
truck is not perfect, but it is an impressive start. He solves his
problems as he goes and keeps in mind potential issues. Things like
driving out into muddy areas on farmland can be difficult for keeping
the truck and carcasses clean.
"I'm
already thinking about having to slaughter an animal on a hill,"
Dalton
said.
"Those areas can be tough because if I lift the animal here, the
weight of it might swing it away from the entrance."
It
is important that his truck is so custom. Unlike cement trucks, you
cannot just go out and buy a slaughtering truck. Such a thing hardly
exists.
There
have been attempts at making them commercially available. These
have names like
"Mobile Slaughter Units" or "Meat Harvest Units." One I could
find is strictly limited for poultry, known as a Poultry
Processing Unit,
and it costs $150,000. It is not really something a farmer, much less
the average person, could afford.
All
of this started because Dalton likes being outside every day. He is a
skilled handyman: he welds, does fencework, builds kennels, paints
houses, helps with his in-law's firewood business, and just about
anything that keeps him busy. On top of all the work, he is raising
his two kids alongside his wife Aryn.
All
of them are
self-proclaimed
animal lovers, and
they
have a whole pack of dogs that run on their property with their young
cow.
"My
little girl tells me she doesn't want me to slaughter our cow."
Dalton said. "I'm not sure I ever will."
Dalton
believes that the slaughtering of an animal affects the quality of
the meat. Considering the stress of it all, he tries to slaughter as
quickly and humanely as possible.
"Some
farmers have these animals like they are pets," Dalton
said.
"Sometimes it's hard for them to kill the animals themselves. It
can be sentimental."
Dalton
has goals to expand and even adapt in some areas but since he just
started, his main focus is letting us know that he has time to kill.