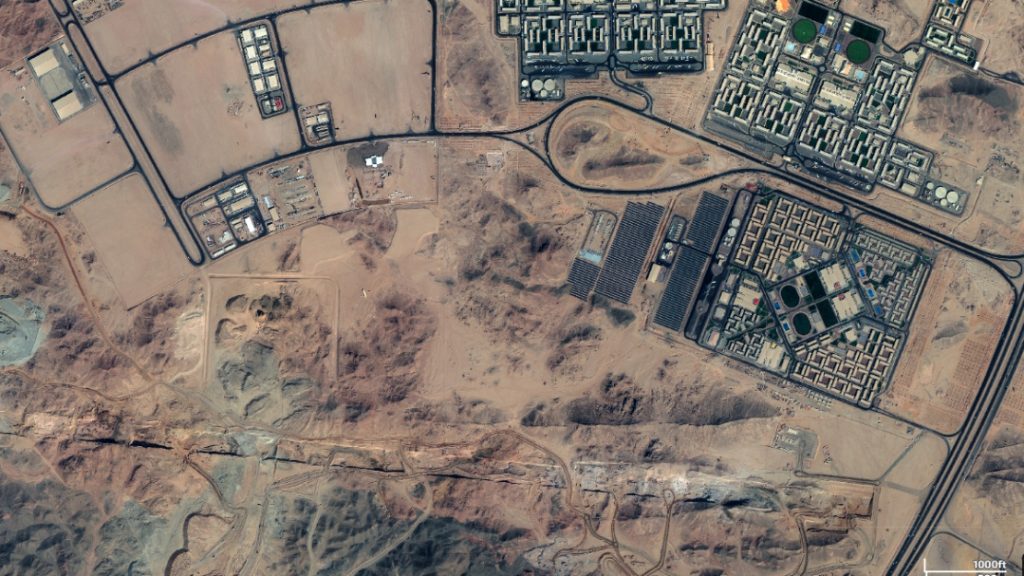 The Line's vast linear construction site is already taking shape across the deserts and mountains of northern Saudi Arabia, according to satellite images by Soar Earth.
Official drone footage released in October of The Line's construction site showed fleets of bulldozers, trucks, and diggers excavating its foundations. It is possible to see aerial photos of the project on Soar Earth, but the same area doesn't show up on Google Earth.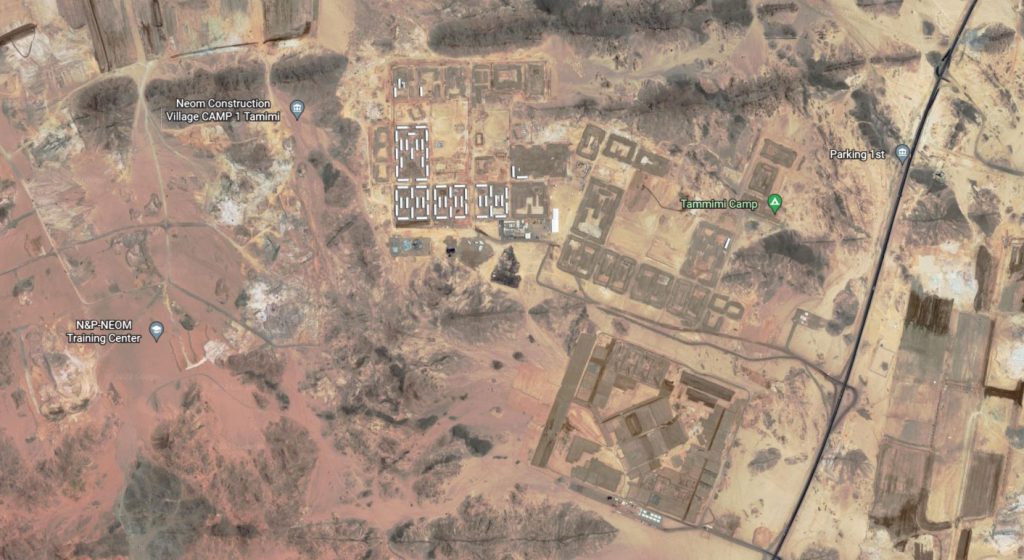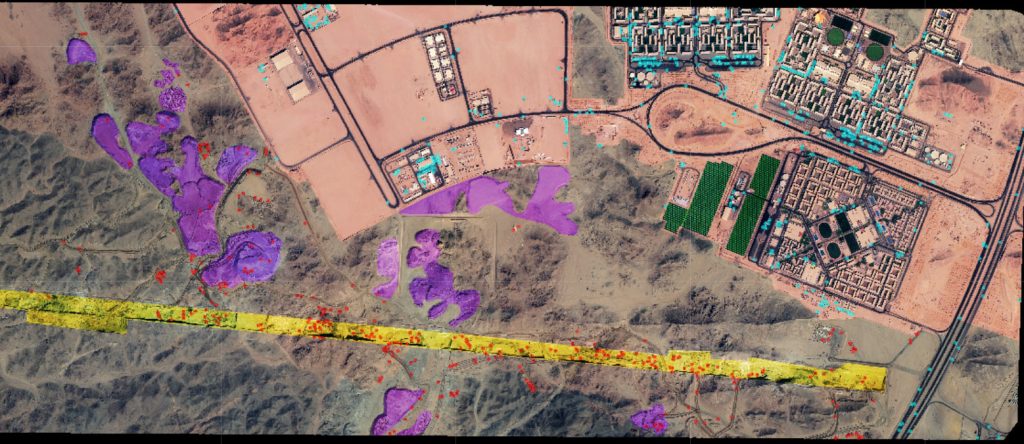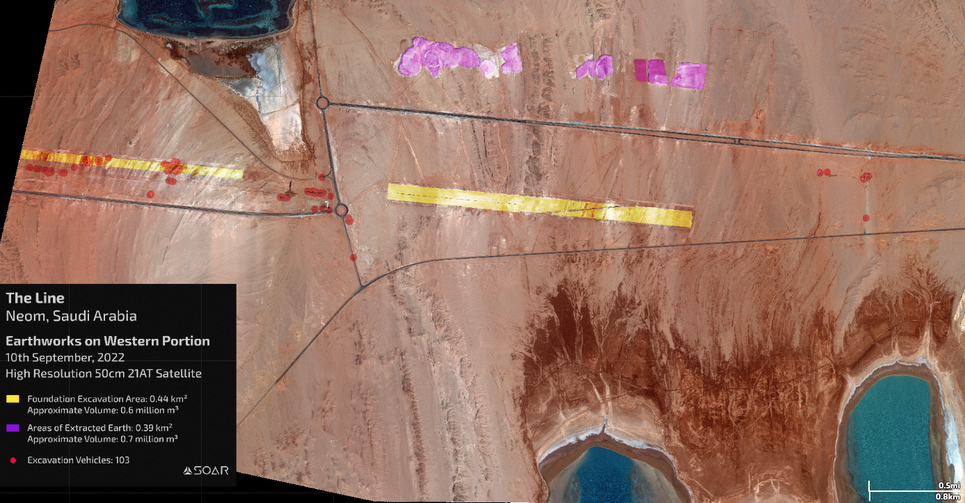 We agree with the question asked by MIT Technology Review about how such a mega project cannot be seen on these maps, where many images can be accessed instantly. "The strange gap in imagery raises questions about who gets to access high-res satellite technology. And if the largest urban construction site on the planet doesn't appear on Google Maps, what else can't we see?"
We find it normal that the area is protected by the Saudi Arabian government. The Line is a controversial project where many futuristic ideas will be tried for the first time, and it continues to receive a lot of criticism.
The Huwaitat people live in this area and have been known to be displaced in the construction process. A few months ago, the Huwaitat tribe requested an investigation into allegations of forced displacement and abuse by Saudi authorities in an urgent communication to the United Nations.
Google has a range of data providers including the US's Landsat and the EU's Sentinel 2, also satellite data commercials such as Maxar and Planet. Landsat and Sentinel 2 data confirmed that (with low-resolution images) some construction activity was happening in The Line's area.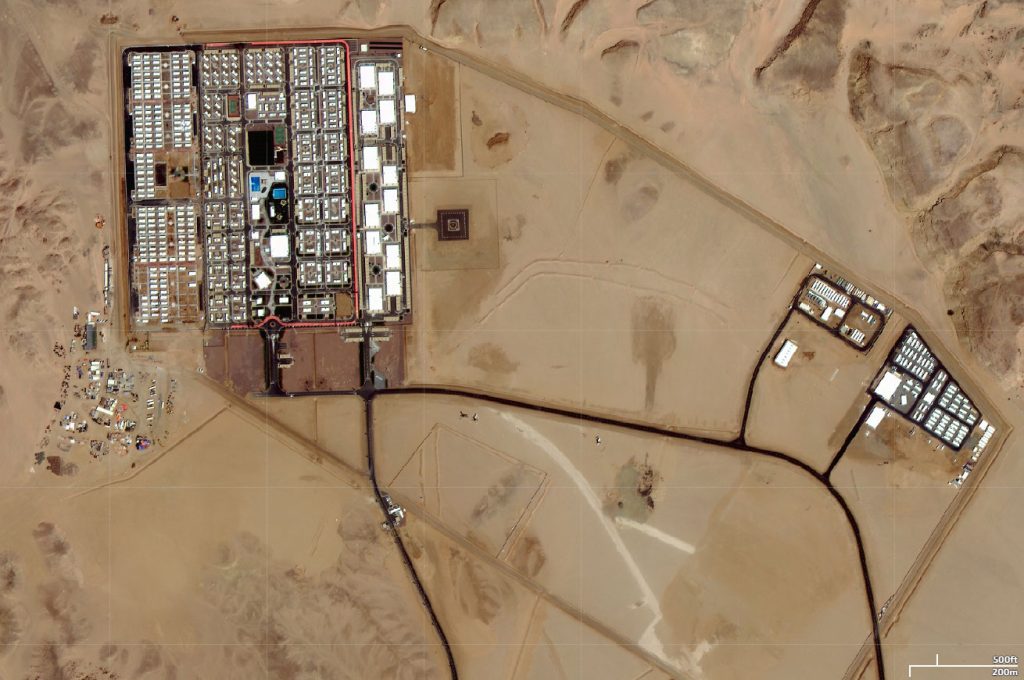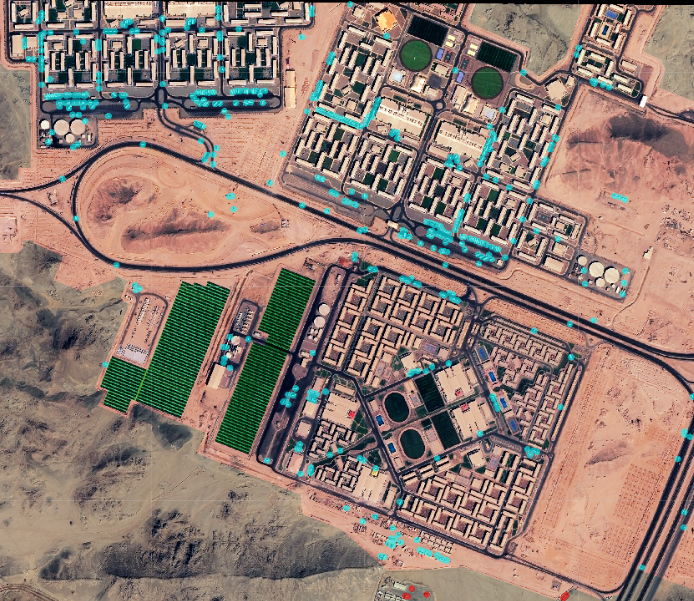 "When we started zooming in, we found that there were significant gaps in Maxar's coverage," says Amir Farhand, CEO and founder of Soar Earth. "In fact, high-definition imagery was nonexistent publicly."
"If there are no Maxar images acquired over an area that is experiencing rapid economic investment, something fishy is going on," Van Den Hoek says. "Probably the simplest solution is that a money interest is purchasing those images at the highest level, where they maintain an exclusive right to them."
Stephen Wood, senior director of Maxar, told MIT Technology Review in the same article: "We do not have any recent high-resolution imagery that has been collected over these areas." He wrote that the company primarily focuses on its customers' areas of interest but "when we have available imaging time, we will collect other areas as part of our overall mission to continually update the entire globe with high-resolution imagery. We tend to concentrate first on those areas that exhibit the most change (e.g., cities, etc.) but will fill in those other areas of the globe as well."
According to some researchers, the reason for the inaccessibility of the visuals of the area may be the humanitarian crisis and the protection of controversial project areas from NGO activism.

Farhand was curious about The Line, regardless of the reason for the missing Saudi Arabia imagery. He paid two Asian startups, CG Satellite in China and 21AT in Singapore, in October. "I thought, holy moly, they're actually doing it," says Farhand. "Look at how many trucks are there. Look how much the earth is moved. I couldn't believe how big Neom's construction camp was."
SOAR operated machine vision to calculate and assess the activity of excavation equipment operating on a single five-kilometer section of The Line in a mountain valley. CG imagery shows 425 excavation vehicles on The Line, as well as over 650 vehicles on a construction base of five square kilometers.
Farhand notes to MIT Technology Review's article: "At every part of this project, there's massive terraforming going on, and some of the stuff is going to indelibly change the environment forever. The question is, have they bitten off more than they can chew?"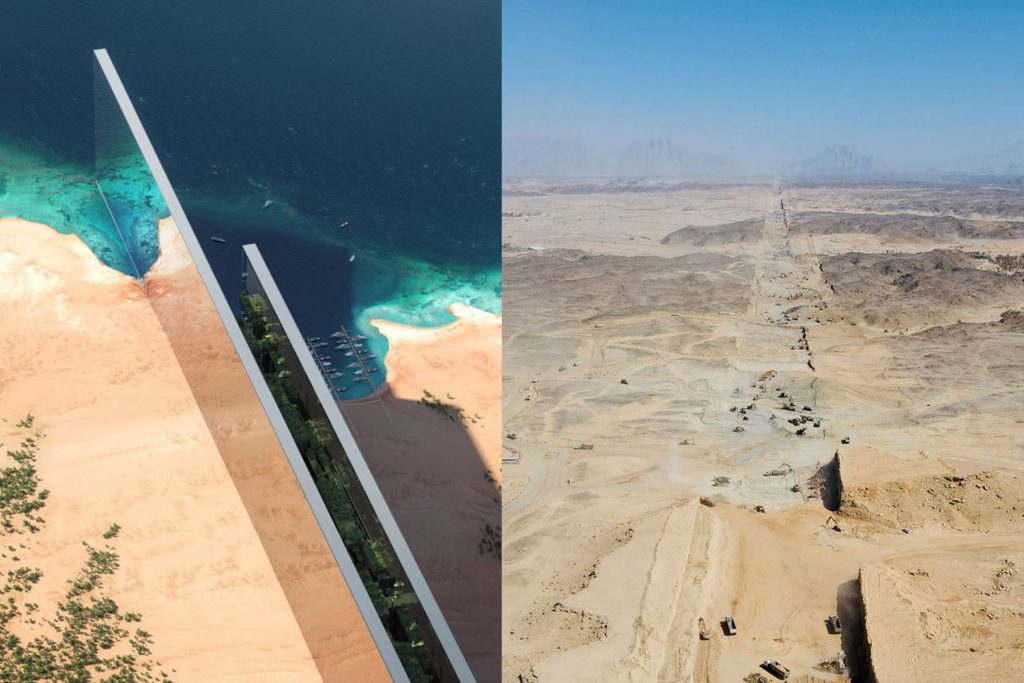 The Line was designed for approximately 9 million residents and built a footprint of 34 square kilometers. The cost of the project is $500 billion. Residents will have access to all facilities by walking and a high-speed rail with 20-minute transit. The project was designed with a model where residents can reach the facilities they need by walking for 5 minutes.
The Line location is imagined as a link between the Red Sea coast and northwest Saudi Arabia.